Notification about contractor on the Debt Exchange
Updated 1 month ago by Agata
If the contractor whose offer you have accepted, within 60 days will be published on the Transcash.eu S.A. Debt Exchange, you will receive a notification. You will be immediately informed about possible payment problems without the need to monitor contractors yourself.
We can send that information only if the transaction was made via the Trans.eu Platform. Accepted transactions are monitored, so you can prepare for payment gridlocks and apply for a possible pursuit of your claims, so you should accept each offer.
For more information about the Debt Exchange
click here
How it works?
The employee who accepted the freight will receive a notification,
and an e-mail to the address provided in the company's profile.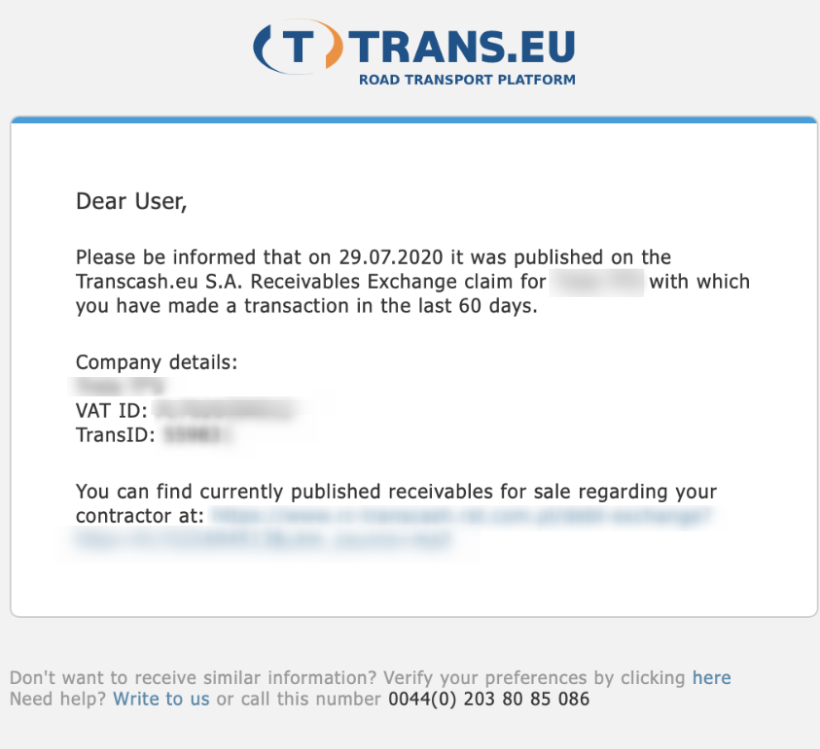 Click on the notification or link provided in the e-mail to go to the Debt Exchange and learn more. Log in using your TransID and password.
You will be redirected directly to the page with information on your contractor's payment situation.
Using the functionality is free of charge.
The contractor on the Debt Exchange is verified by Transcash.eu S.A. After paying the liabilities, he is removed from it.
If you have any questions about the Debt Exchange, please contact with the Transcach.eu
---