Communicator changes
At the next release of the messenger, the tool has the following improvements:
Changing the appearance of the messenger
In the communicator:
has been refreshed, chat window view
we've added more space in the conversationwindow for conversation
we've increased the width of the scroll bar (slider) for better handling
we've added the send button
The messenger worked correctly at a minimum screen resolution of 1366x768
Notification of new messages
We have implemented a new way to notify the user of an unread message:
each new message is highlighted in the color in the contacts list
the open messenger window flashes to indicate that a new message has arrived.
the minimized conversation window flashes to inform you of a new message
the chat window flashes until you click / read the message or mark it read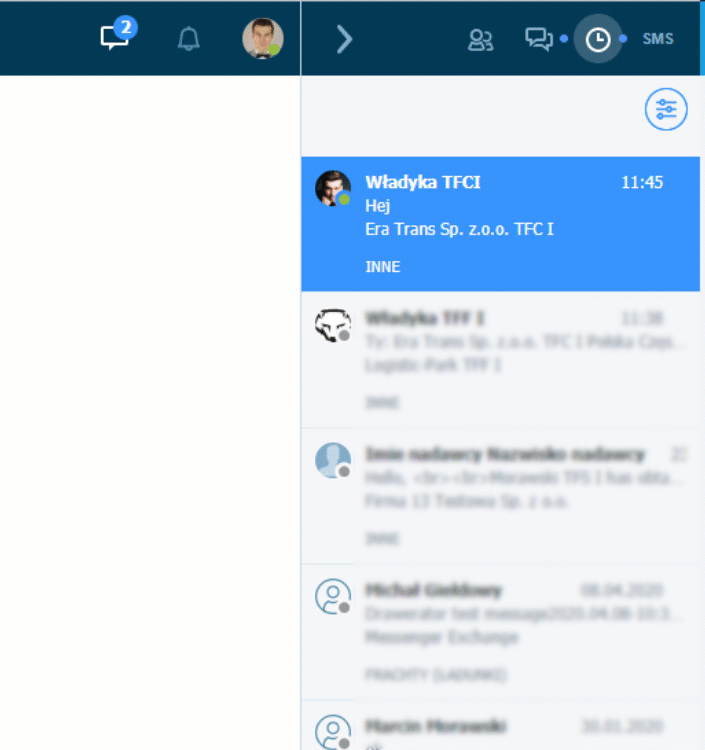 Contact business card view
After hovering over the contact's name in the messenger window, a preview of the business card for the given contact appears. The business card is also available for the chat window by hovering over the contact's name. Basic contact details are available in the business card:
Contact Name
Position
Registration date on the Trans platform
Phone number
E-mail
Status
Company name - after clicking it, we go to the contractors module.
Location (Country, City)
Company evaluation
Company data on the debt exchange
The business card has a copy to clipboard button and you can use it to automatically copy:
Company name
location
Contractor's name and surname
Trans id
Phone number
You can paste the copied data, e.g. in the communicator, and send it to the contractor.
The business card appears only in the communicator window option.
Offer counter on the contact list
Next to the contact's name, a list is available on the list indicating how much the company currently has loads and / or vehicles on the exchange after clicking on the icon (vehicle load), a filter opens on the load exchange (vehicles / loads)
---