Load offers from the Exchange visible on the Maps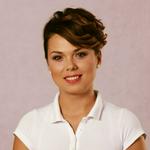 Updated 2 months ago by Ania
The ability to display available offers on the Maps view will speed up your work. This is a convenient alternative to the table on the Loads Exchange. We have also added the option of searching loads on the route - all current offers will be visible on Maps. This reduces the need to work in multiple tabs or set a large search radius in filters on the Loads Exchange.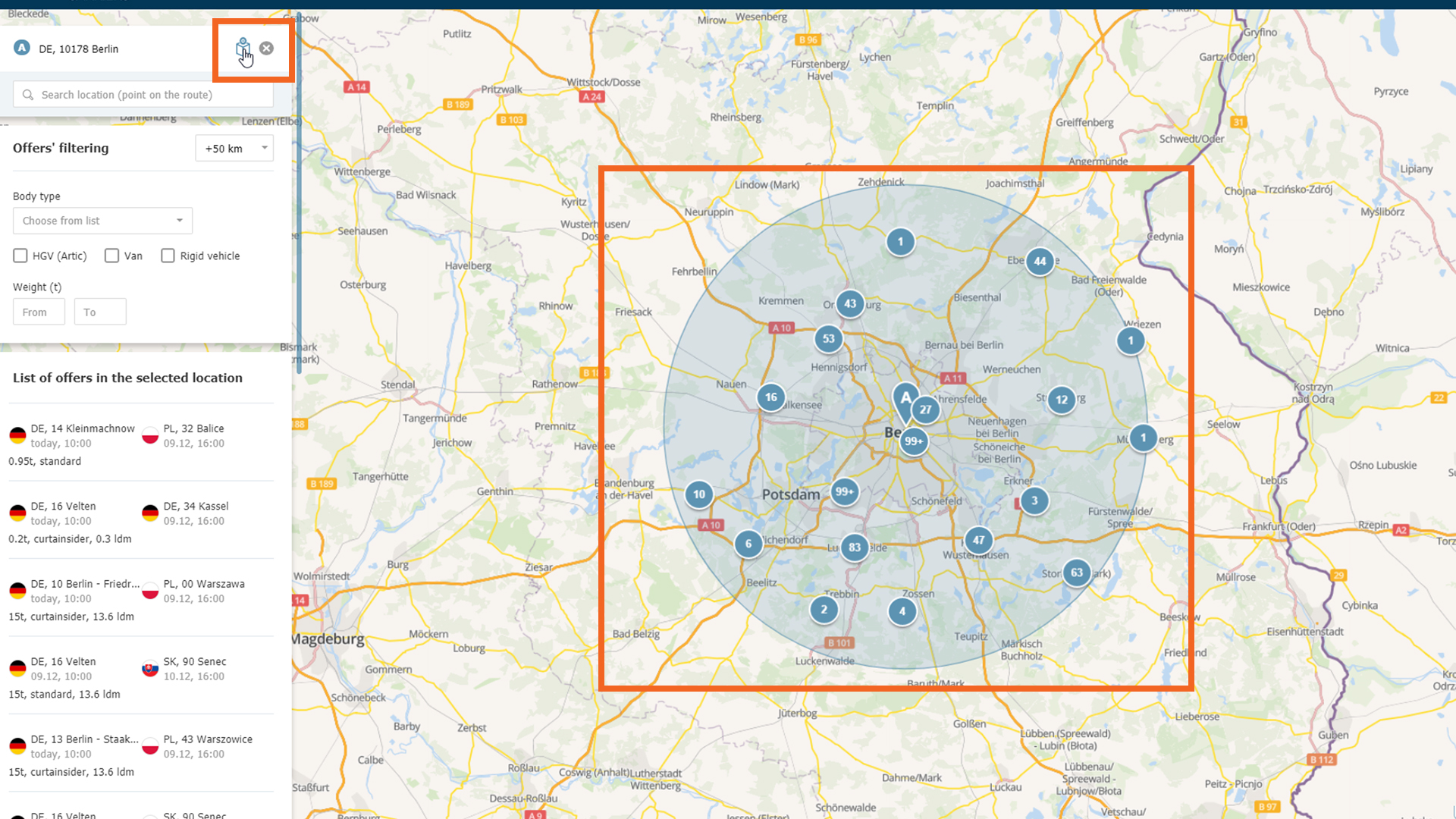 Load offers from the Exchange visible on the Maps
Working with the table on the Loads Exchange is not always the most convenient, especially if you are looking for reloading on the route. That is why we propose a solution that can be helpful - access to offers on the Maps.
Why is it worth trying?
on the Maps you will immediately see provided locations (or how the route is going) - one glance is enough to precisely determine the loading and unloading points
is the offer for you? You can view its details, talk or negotiate immediately!
if you are looking for reloading, you'll see the location and number of offers in given locations on the Maps - you can decide faster where to go
How it's working?
Log in to the Trans.eu Platform and go to the Maps tab. The large map view will open in a new window to make your work more comfortable.
Enter the desired location, then click the "Load" icon to display all loads available in the default area.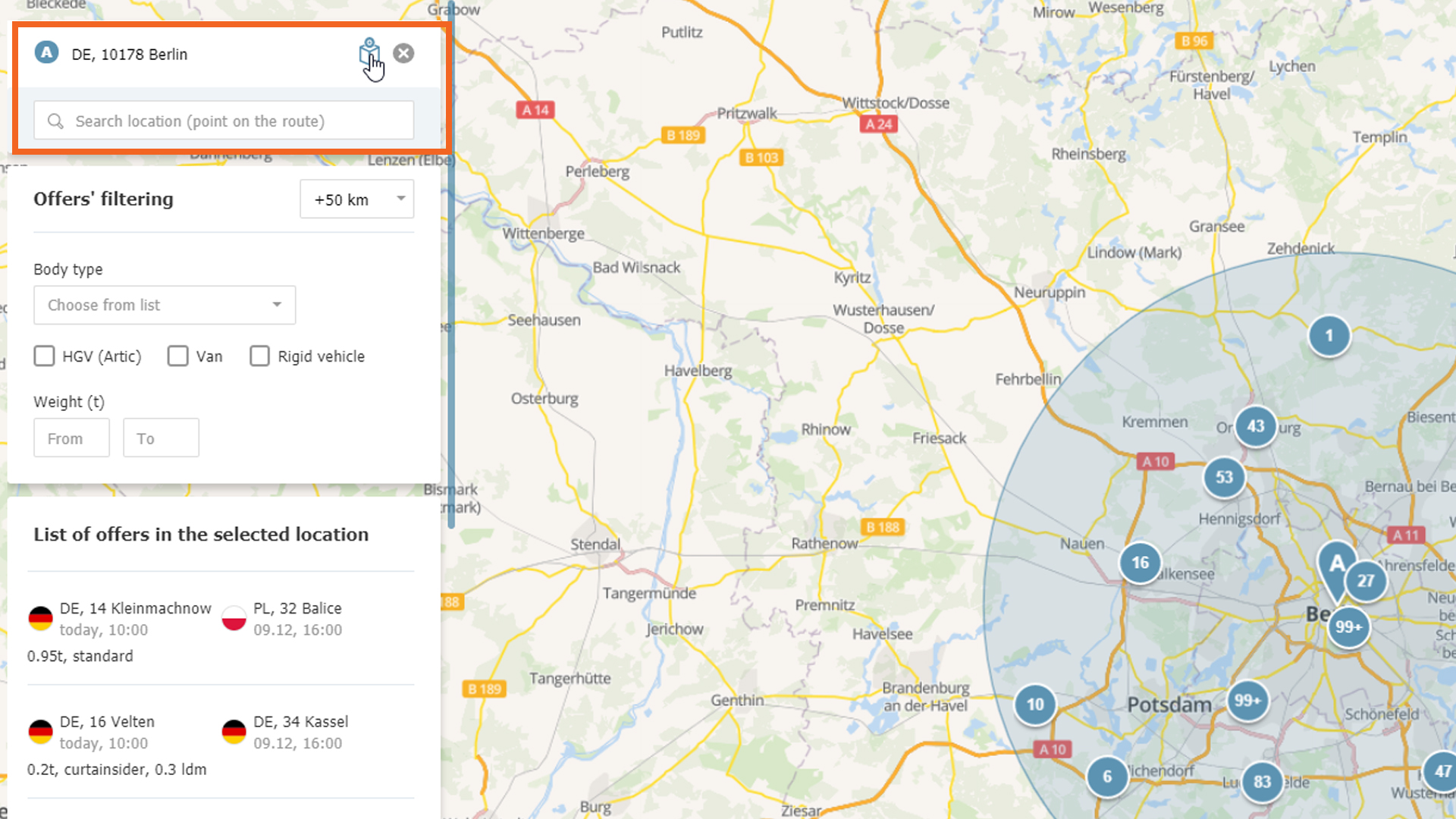 You will see the number of available offers and their distribution. You can use filters to get more relevant results.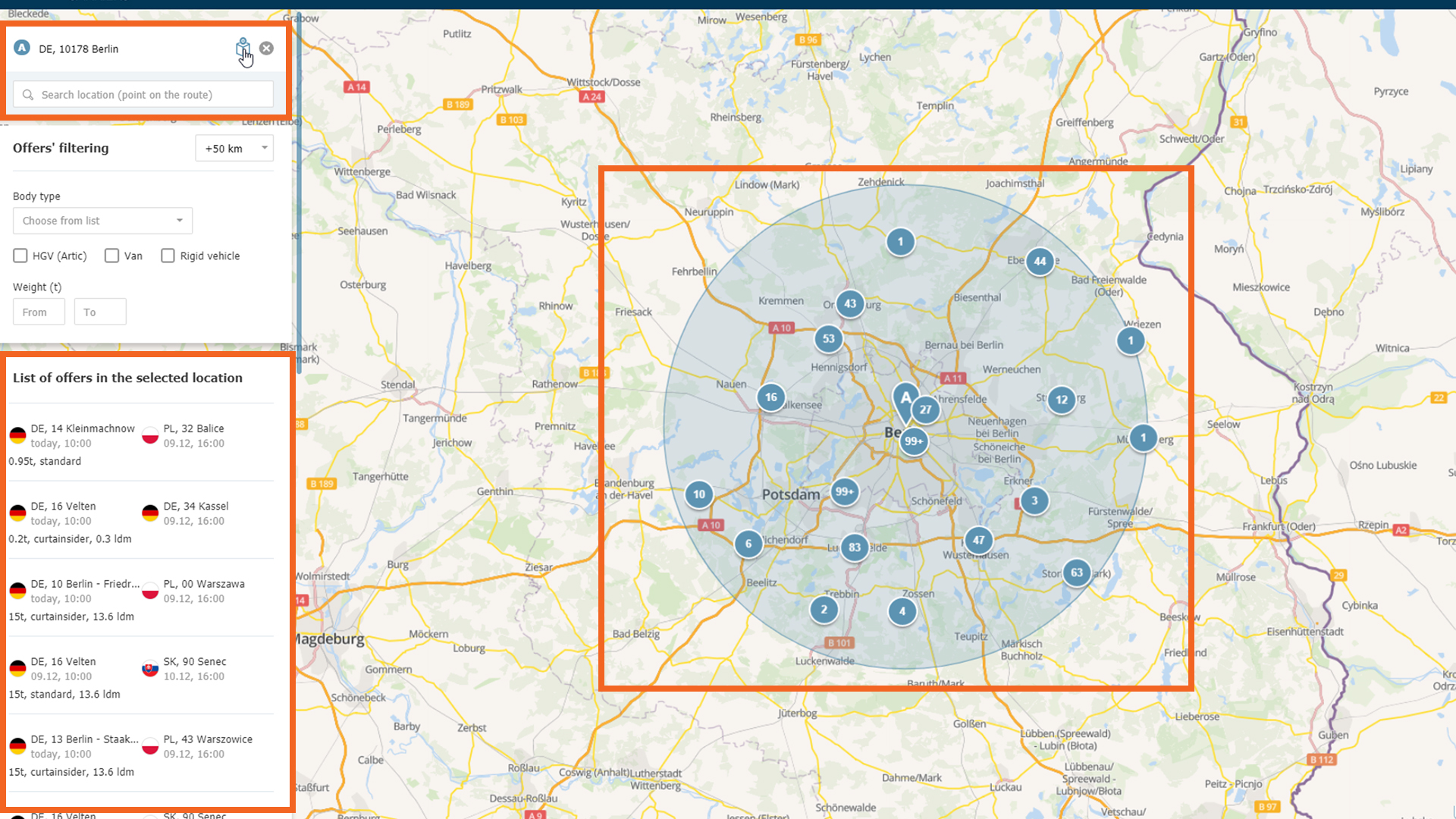 If you find an interesting proposal, click it on the list on the left and read its details.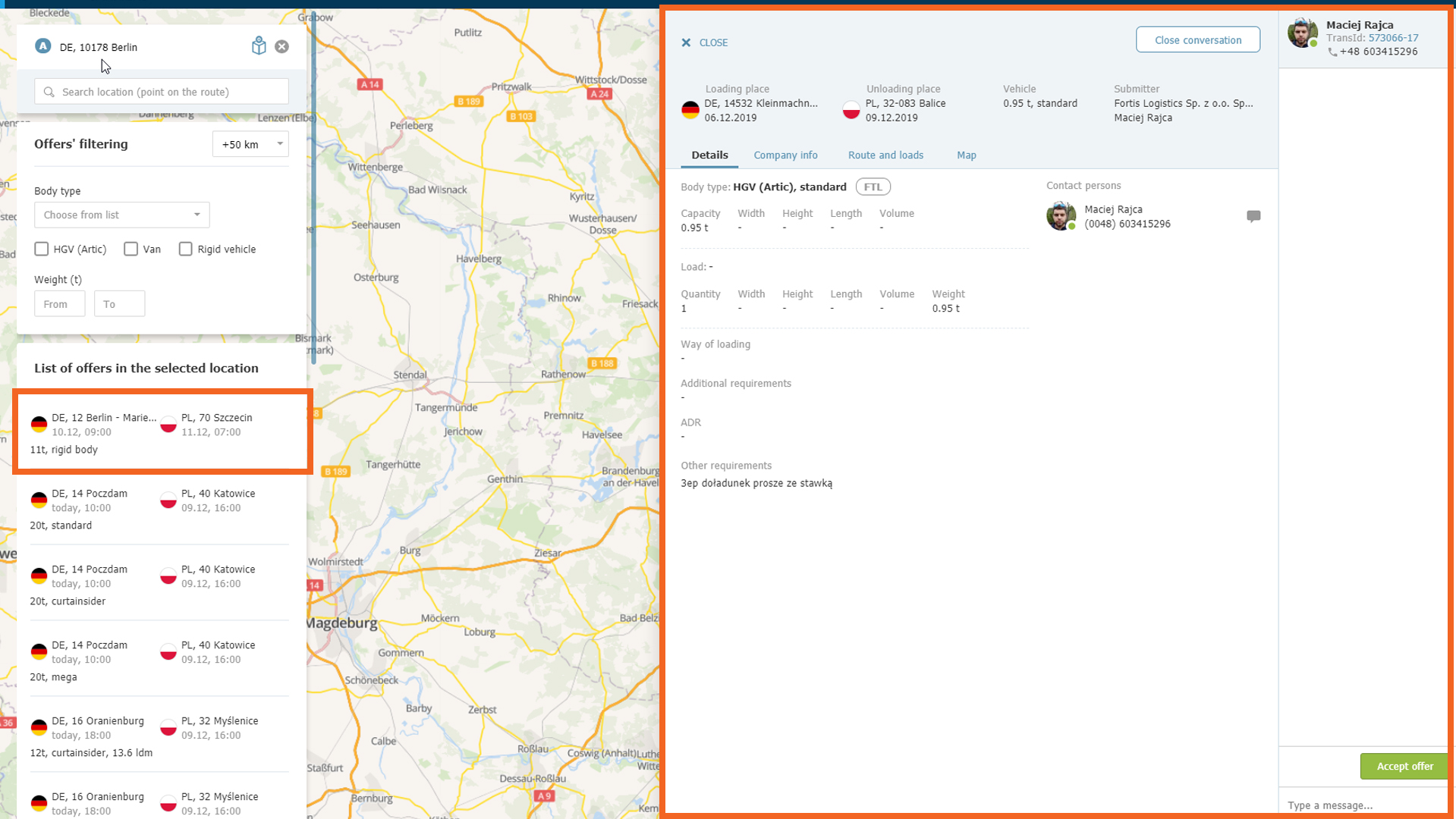 You can accept or negotiate it. If you are negotiating, remember that the offer will be transferred. You will find it on the Loads Exchange in the "Watched" tab and in the Freight module.
You can search for loads on the route - start by determining locations. Click the "load" icon below the locations entered and select "Search on route".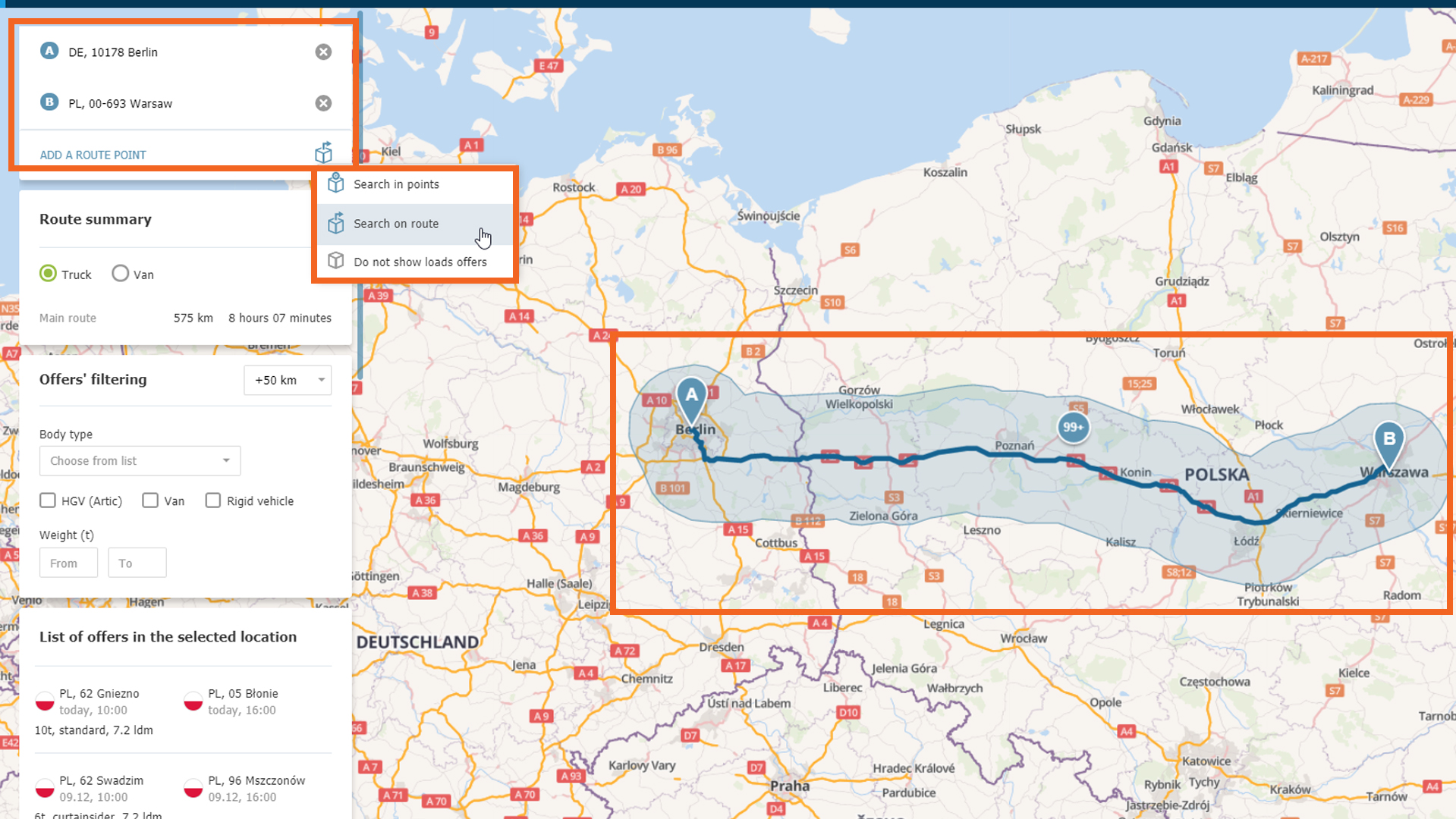 Use filters if needed. This way you will receive results that will allow you to top-up on the route. Ready!
Go to the Trans.eu Platform and check how many loads are waiting for you.
---