(TFS) Shipper Automation rules
What are the automated rules?
Automatic rules are the best way to attract carriers to carry out orders in an almost maintenance-free manner. Thanks to the rules, you can decide who and in what order will receive freight offers from you.
There are no limits to creating automated rules, so you can build as many as you need.
Create an automatic rule once and it will prompt every time you publish a freight with the given parameters.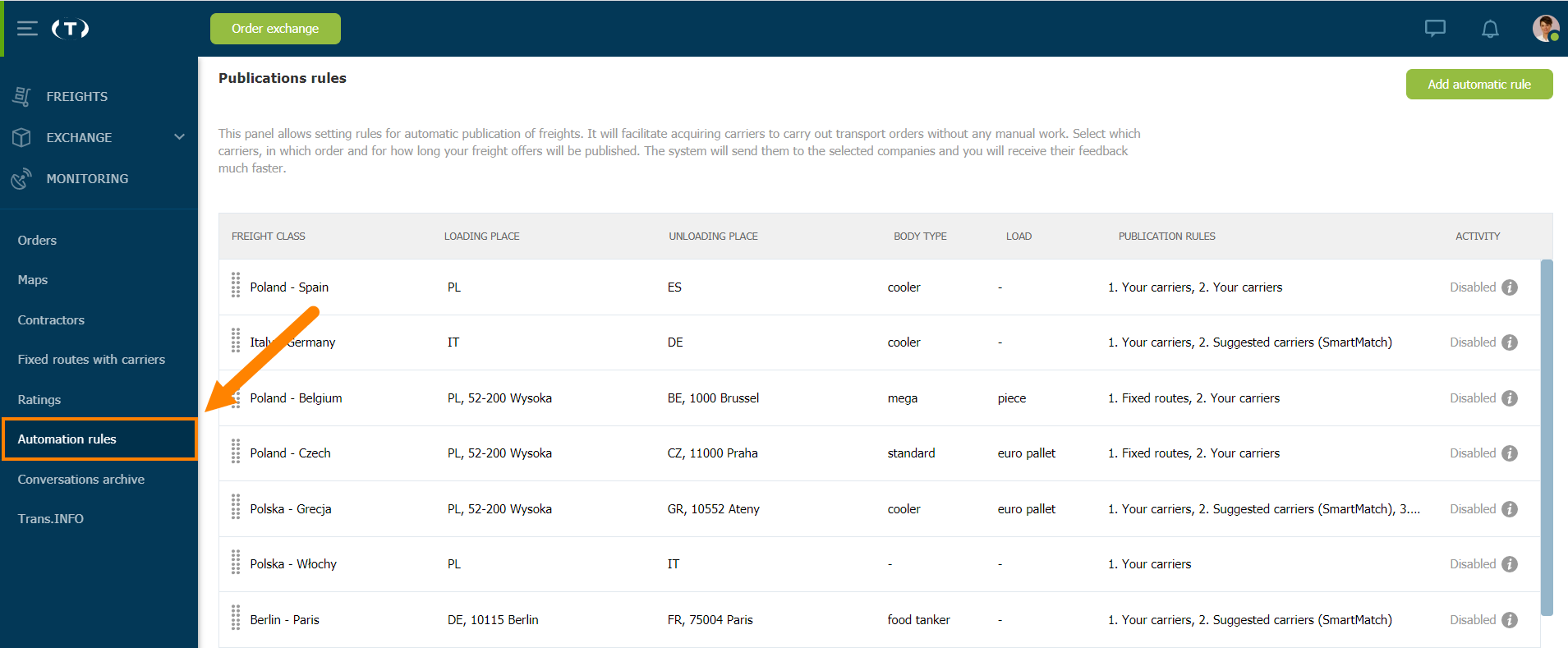 Adding an automatic rule
Adding an automatic rule means filling out a short form. You will do it in 4 easy steps:
Click the "Add automatic rule" button.
Name the rule - this name is visible only to you and your colleagues - try to make it easy to identify.
Add route parameters - loading and unloading places. Remember that the rule will work correctly if these parameters match those of the freight you want to publish using the rule. Example: If you provide the exact address of loading and unloading (street, number) in Poland, then you will need to provide identical data on the freight. You also have an option of skipping loading and unloading locations, this way the rule will work for specific freight characteristics, excluding locations.
Add freight characteristics - vehicle size and type, freight type or load type.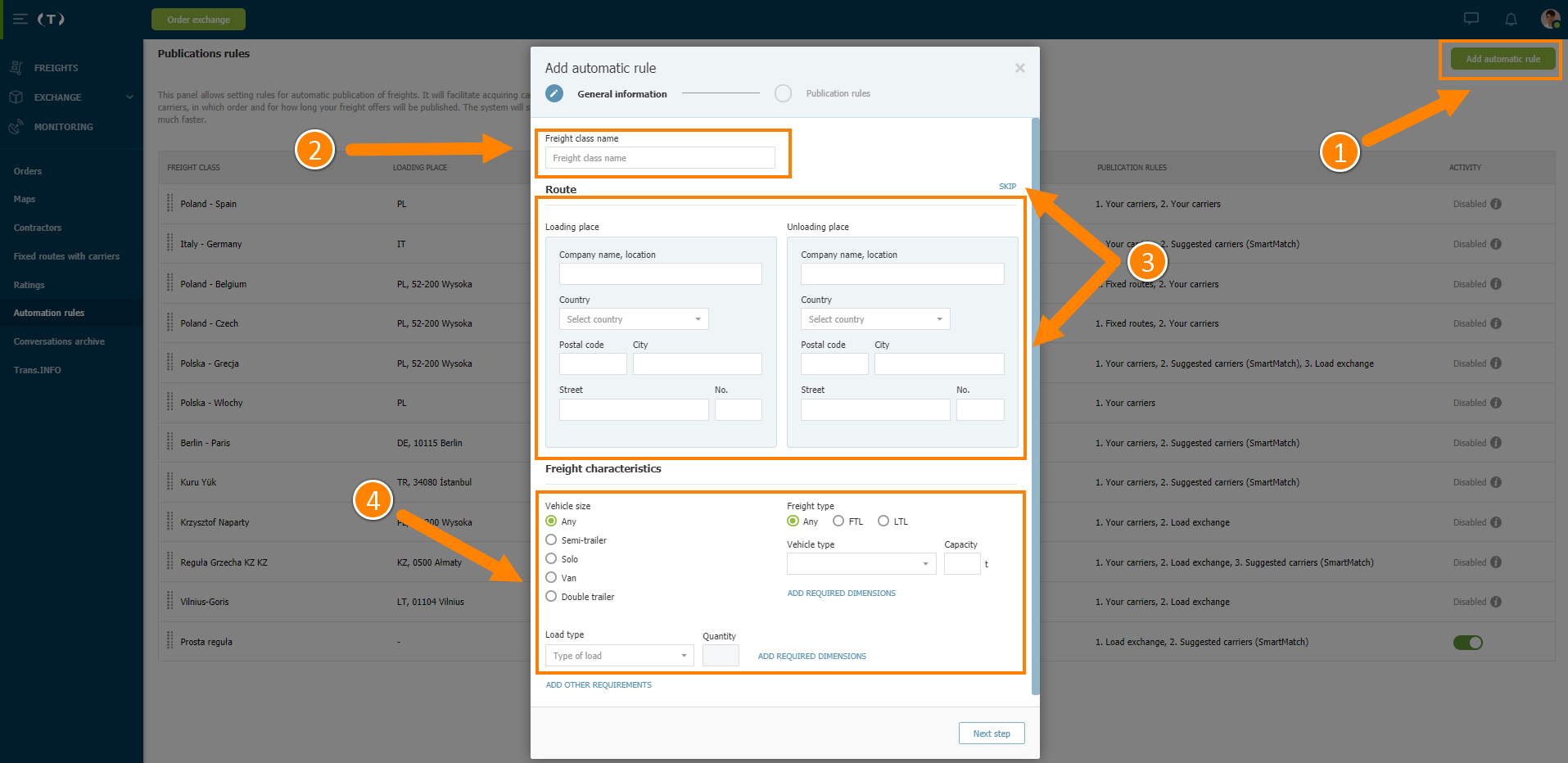 Go to the order of publication. It's up to you how this order will look like and whether you will use all or selected publishing options.
Fixed routes - set if you have agreed conditions for cooperation with contractors (on the given route) and such information has been saved in the "Fixed routes with carriers" module.
Your carriers - set if your contractors include companies that can potentially carry out freight.
Proposed carriers (SmartMatch) - set if you want the SmartMatch intelligent algorithm to match your freight proposal with proven carriers and send them an offer.
Loads exchange - set it if you want your offer to reach Trans.eu loads exchange.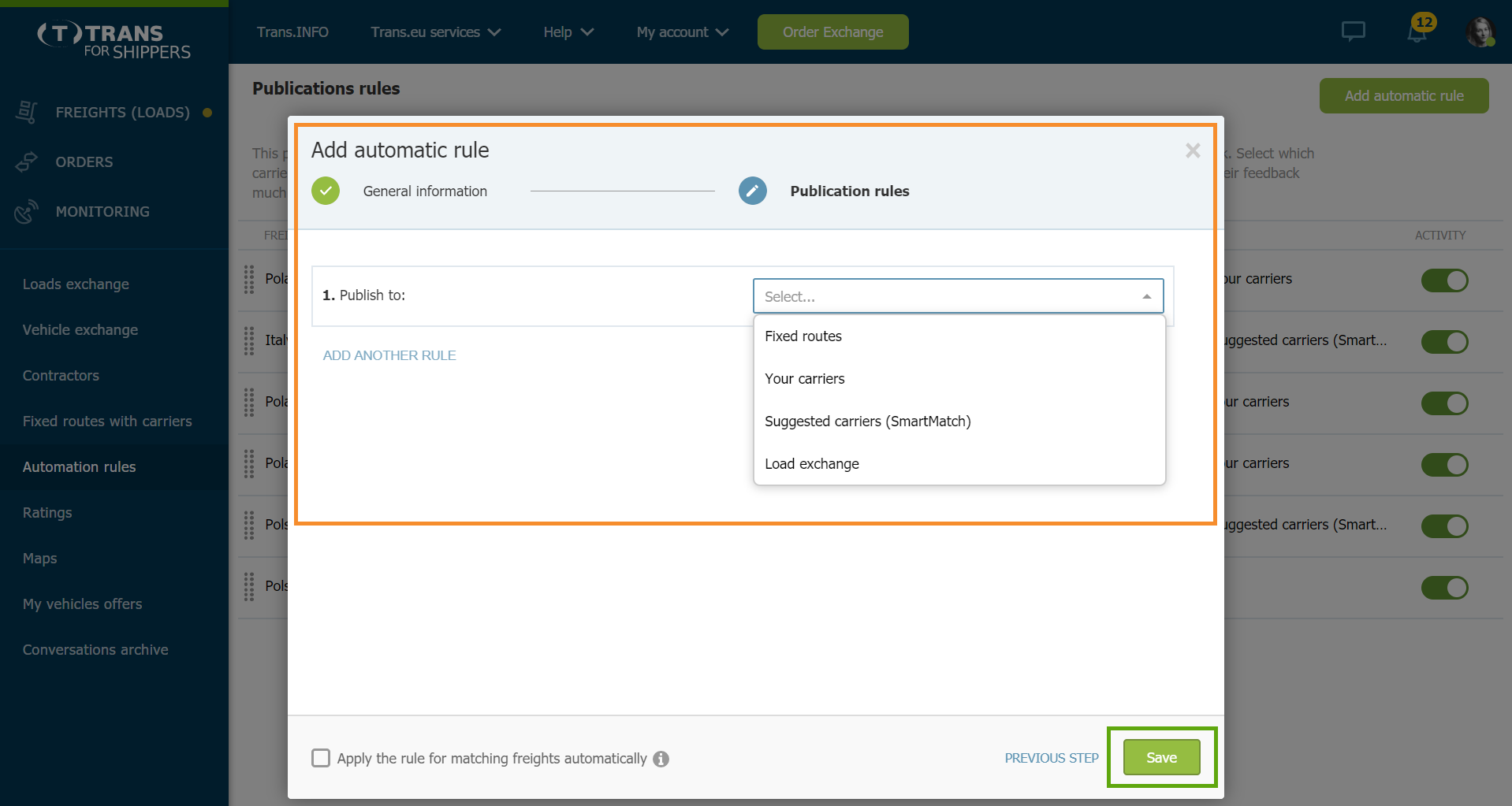 Define the basic rules - order of publication, time for submitting offers and currency.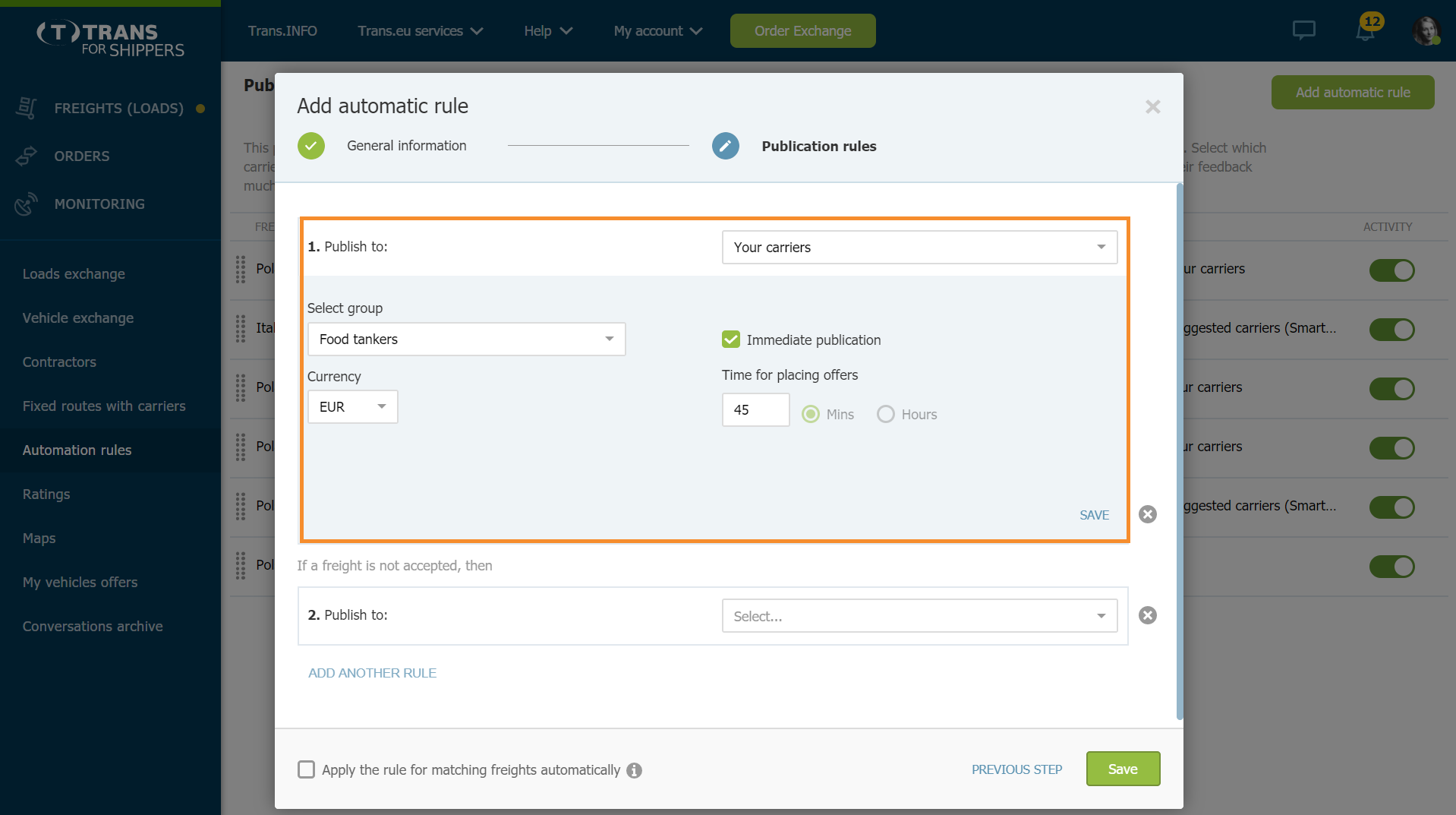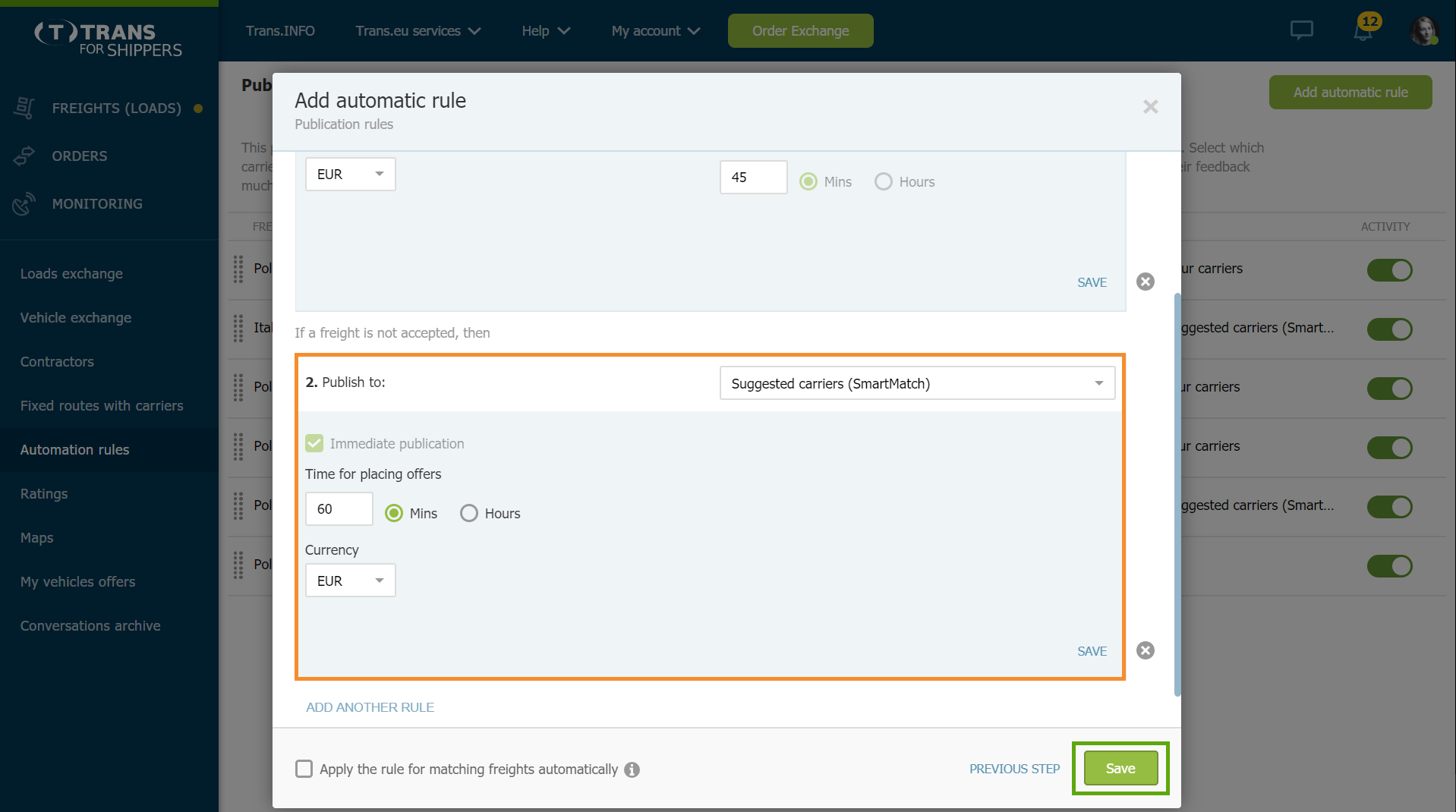 An example of a ready rule
The following example shows what a freight publication will look like using an automated rule:
The proposal will first go to the group of carriers called Food tankers. Users of this group will have 45 minutes to reply. If none of them reacts, the SmartMatch algorithm will start working and will send the freight, which will automatically go to the contractors.
When will the rule stop?
if the freight is accepted,
if none of the addressees sends the offer or the offer is rejected by everyone.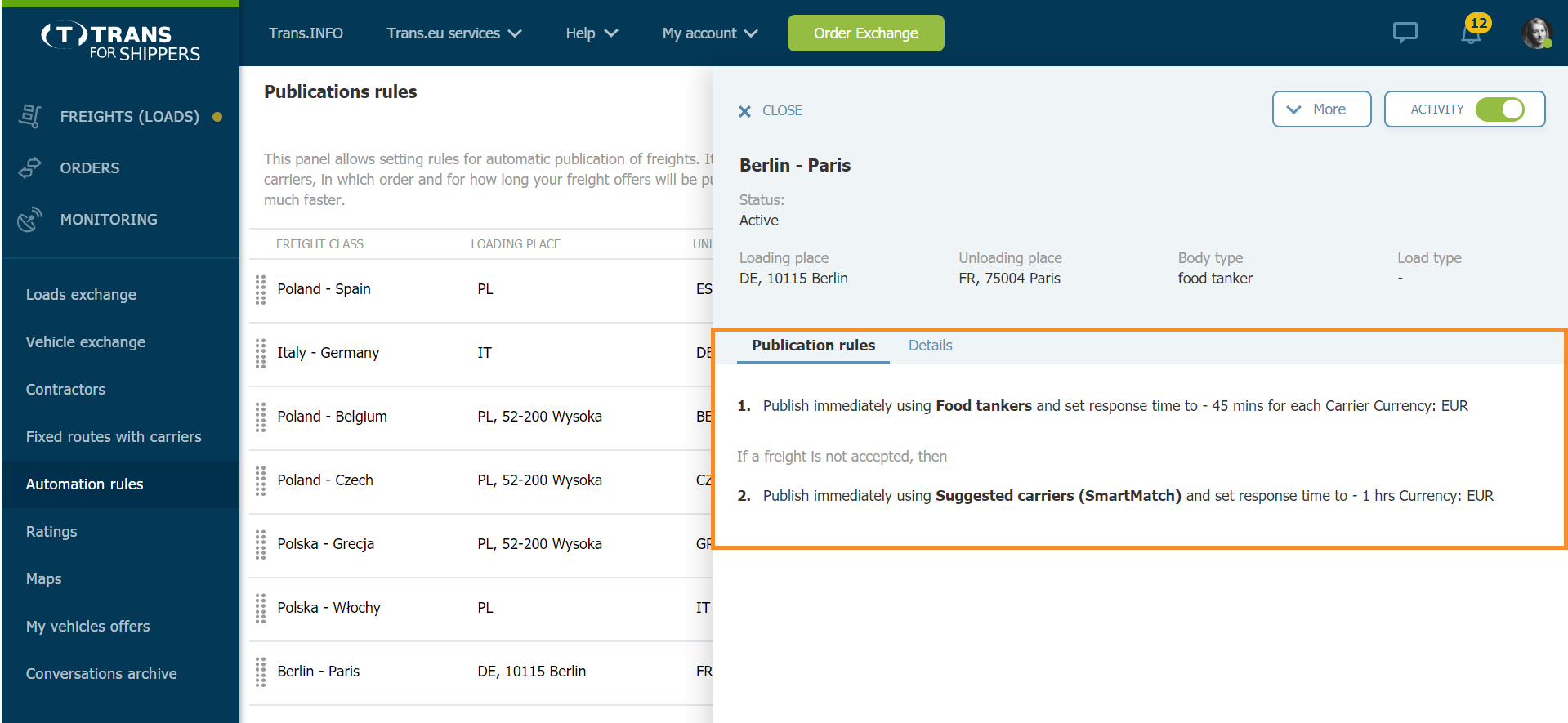 Automatic rules will follow the publication of the freight each time the criteria of the proposal overlap with them.
---